NI ELVIS is a project-based learning solution that combines instrumentation, embedded design, and web connectivity for engineering fundamentals and system design. It provides a comprehensive teaching solution for engaging students in hands-on labs involving analog circuits, mechatronics, power electronics, instrumentation, digital communications, digital electronics, controls, and more.
NI ELVIS III
Software includes interactive web and desktop software front panels, instrumentation  support for Windows and Mac, API support for LabVIEW and text-based languages, shipping examples, and detailed help files. 
Seven hardware instruments plus control I/O containing 16AI, 4AO, and 40 DIO.
4 Channel, 100MS/s (400MS/s single channel), 50MHz oscilloscope with 14-bit resolution.
16 Channel, 100MS/s logic analyzer/pattern generator
16 Channel, 1MS/s analog input with 16-bit resolution
40 DIO lines individually programmable as input, output, PWM, or digital protocols.
| | | |
| --- | --- | --- |
| | ELVIS II+ | ELVIS III |
| Oscilloscope | 2 Ch, 100MS/s, 8-bits | 4 Ch, 400MS/s, 14-bits |
| Function Generator | 1 Ch, 5MHz, 10-bits | 2 Ch, 100MS/s, 15MHz, 14-bits |
| Logic Analyzer / Pattern Generator | – | 16 Ch, 100MS/s |
| IV Analyzer | – | ±10 V, ±30 mA, 15 MHz |
| Digital Multimeter | 5½ digits | 4½ digits |
| Variable Power Supply | ±12 V, 500 mA | ±15 V, 500 mA |
| Processor FPGA | – | Xilinx Zynq-7020 |
| Analog Inputs | 16 Ch, 16 bits | 16 Ch, 16 bits |
| Analog Outputs | 2 Ch, 16-bits | 4  Ch, 16 bits |
| DIO | 24 DIO, 15PFI | 40 Ch |
| SFP Support | Windows | Windows, Mac & Web |
| Programming Language support | LabVIEW | LabVIEW, Python, C, Simulink |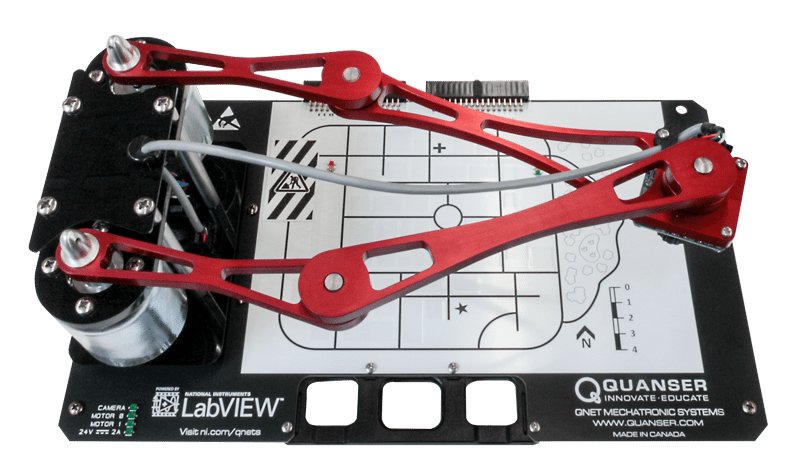 Quanser Mechatronics Systems Board for NI ELVIS III
The Quanser Mechatronic Systems Board is designed to provide hands-on experience with a complete mechatronic system in a safe, and academically appropriate setting. The board gives students an opportunity to delve into the operation of a mechatronic system at every level, from motor interfacing all the way to an engaging application context using industry-grade instrumentation and real-time control.
Complete System: A complete mechatronic system from sensor integration and motor control to image processing and state machines
Open and Customizable: Access and customize all levels of the interfacing and control software using LabVIEW
Accelerate Discovery: Learn the fundamentals of interfacing, manipulator control, image processing, and state machines
Comprehensive Courseware: Includes fully customizable ABET-aligned workbooks, software, and additional resources
Courseware

Goal-directed line following
Image processing

Image tresholding
Blob detection
Pattern matching

State machines
Manipulator control

PWM generation
Encoder decoding
Inverse kinematics
Forward kinematics

PID position control

Quanser Control Board
The Quanser Controls Board offers a complete package for studying fundamental and advanced controls topics. The skills and hands-on experiences gained using the controls board are directly applicable to the challenges engineers face creating the complex systems that dominate the world today.
Features
Highly Linear Motor Response: To enable directly relational modelling and control design
Open and Customizable: Access and customize all levels of the interfacing and control software using LabVIEW
Complete Package: Hardware and courseware enable courses to cover the essentials of introductory and advanced controls
Courseware
DC Motor Modeling: First principles, experimental, frequency
Speed Control: PID control, lead compensators
Position Control: PID control, steady-state error
Stability: BIBO, Nyquist, Routh Hurwitz
Inverted Pendulum Control: Pole placement, LQR, swing-up
Digital Control: Quantization, matched pole-zero, digital design
The board is comprised of four independent sections that are the basic building blocks for understanding the functions of components used in power electronic systems and relevant applications.

Linear Regulator operation ( Discrete Linear Section)
Buck Regulator operation (Discrete Buck Section)
Pulse-Width Modulated Inverter, Square-wave Inverter and High-Frequency Transformer operation ( DC-AC Inverter Section)
Diode-Bridge Rectifier and Post-Regulator operation ( AC-DC Rectifier section).

On-board jumpers enable testing with different system configurations
Test points on board allow measurement of voltage and current.